All School District of Newberry County schools and offices will be closed on March 18, 2021, due to the threat of severe weather. All school activities, including adult education classes and athletics, are canceled on Thursday, March 18. This will be an e-learning day for all students. Teachers will provide asynchronous (not live) virtual assignments to all students, including Newberry ONE students, for this day. Assignments will be posted along with the completion due date. The completion of the assignments will be used to determine student attendance for March 18.
***Please view the attached image for dates to remember for grades 3 -5 for state testing***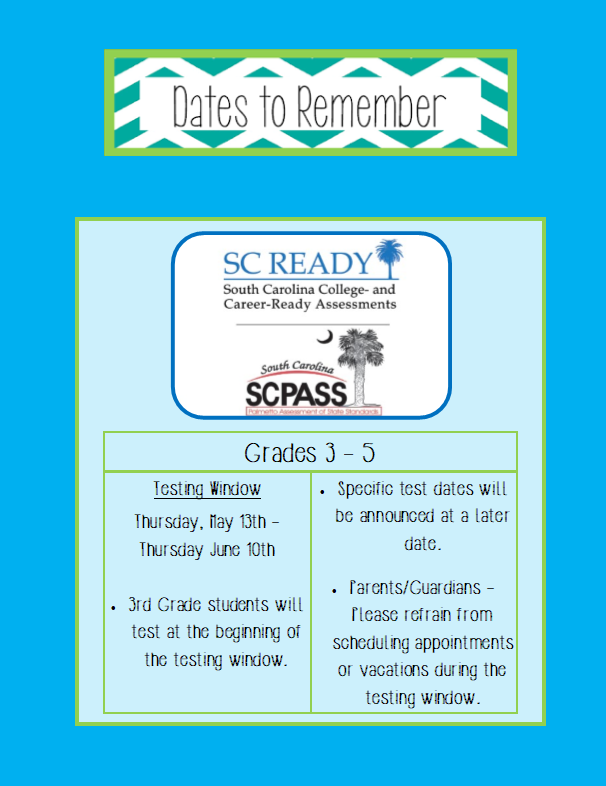 Prek and kindergarten registration for the 2021-2022 school year for children entering public school for the first time opens on March 8. If you have a student that will be 4 or 5 by September 1, 2021 please register your student online using the 2021-2022 Pre-K & Kindergarten registration link found on our district web page. You will need the following required documents –Three proofs of residency, your child's birth certificate and immunization record. For PreK, we will need one of the following for Income Verification: Medicaid Card, most recent check stub or food stamp verification. These documents can be uploaded online. Dial 4 testing will be required and your child's zoned school will contact you for a scheduled time to take the test. If there are questions please call 803-321-2600 and ask for Dr. Beth Brooks or Ms. Jan Redden or contact your child's zoned school.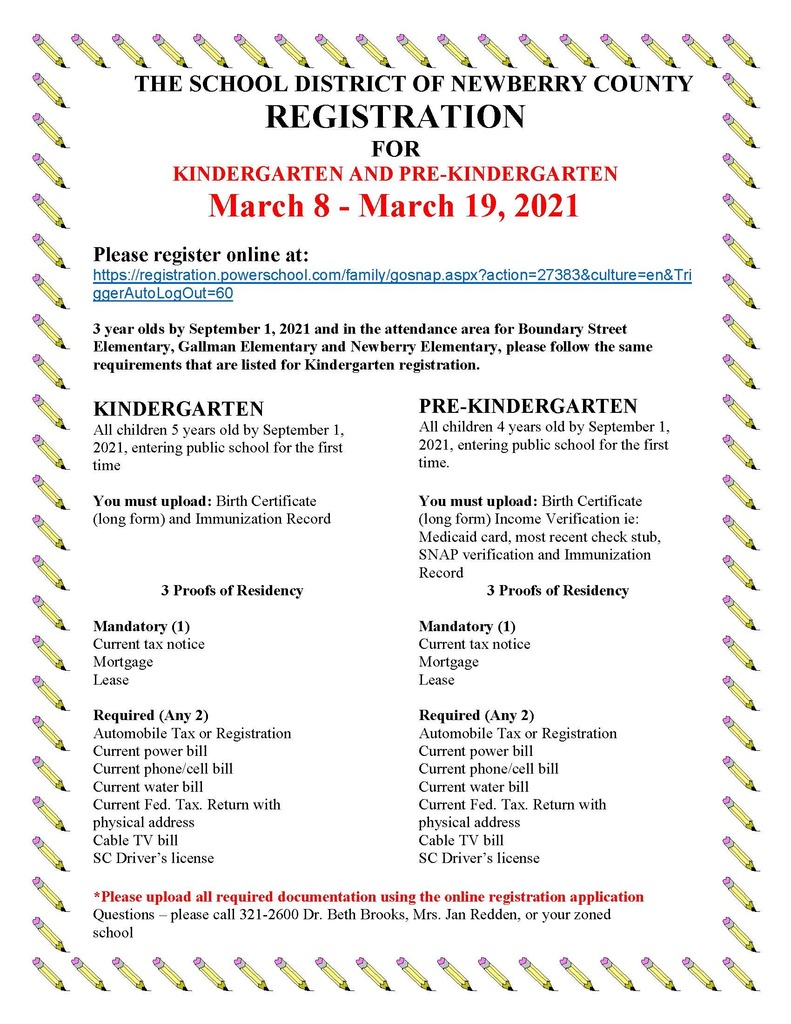 It's Read Across America Week! 1 -2-3 Let's Read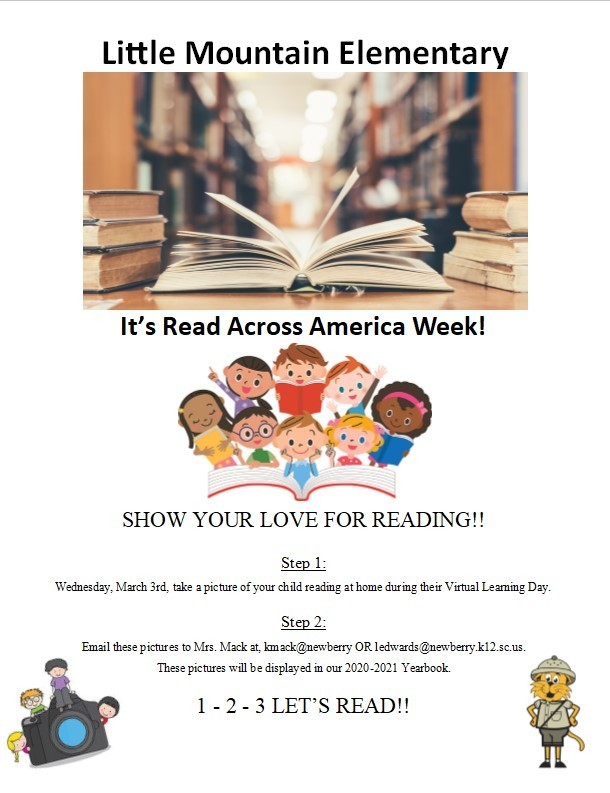 Information for Kindergarten and Pre-Kindergarten Registration (Spanish)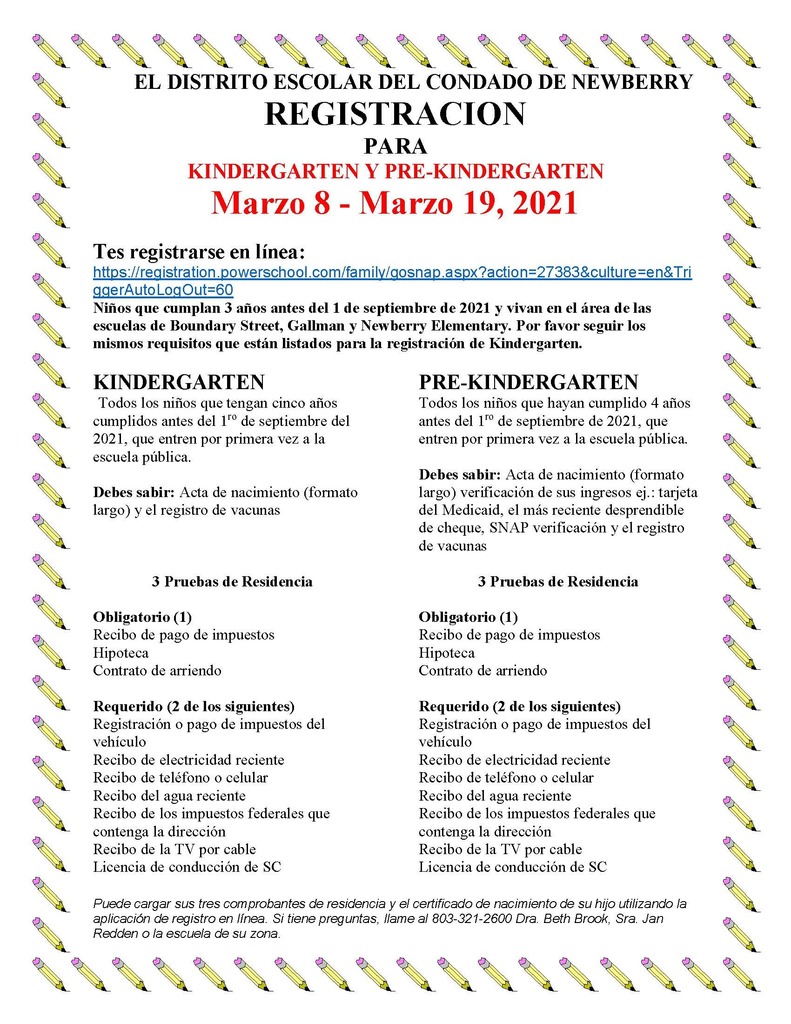 Information for Kindergarten and Pre-Kindergarten Registration (English)

Interim Pick-Up for Virtual Students
No School tomorrow, February 12th and, Monday, February 15th- Happy President's Day.
Friday, January 29th There will be no school for students due to virtual parent-teacher conferences.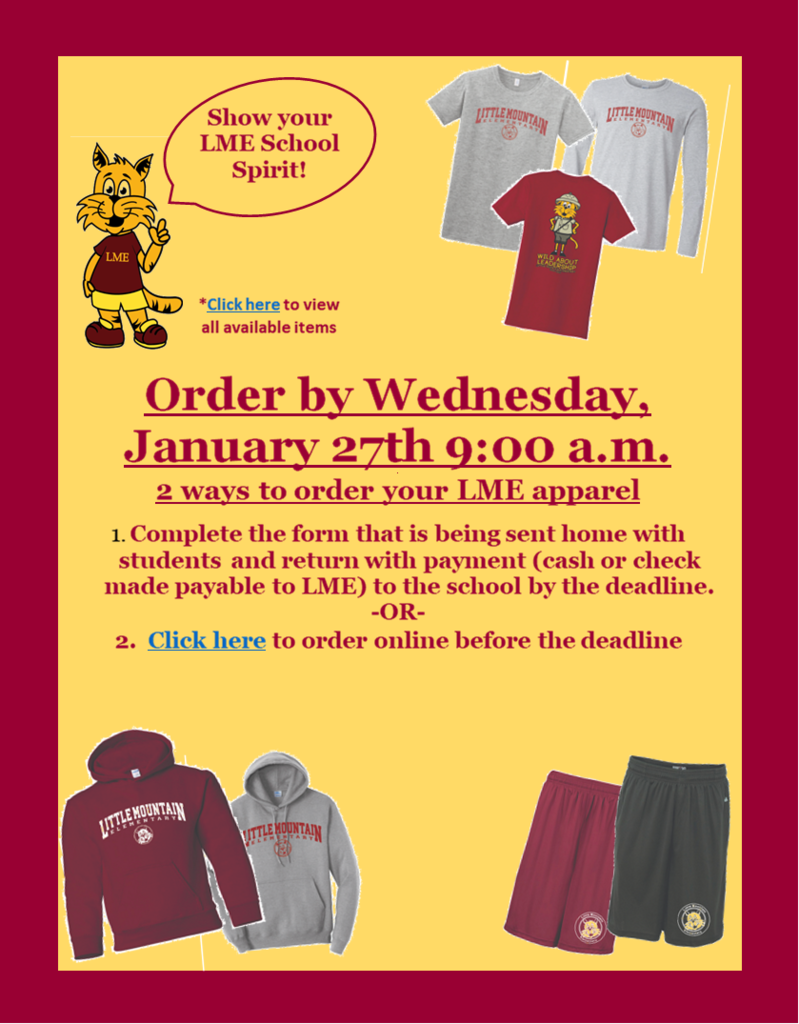 The School District of Newberry County will host its annual Recruitment Fair on Saturday, February 20 from 9 am - 11 am at Mid-Carolina High School. All open positions are posted at
www.teachatnewberry.com
. All Attendees will be required to wear a mask and social distancing guidelines will be followed.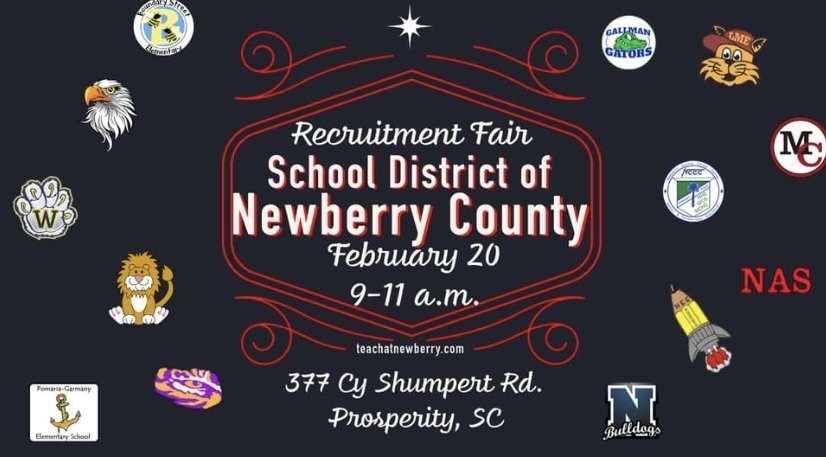 The School District of Newberry County congratulates Sarah Eades for being named Little Mountain Elementary School Teacher of the Year. Eades says her favorite thing about teaching in Newberry is "I love the support and the friendships that anyone can find throughout the district."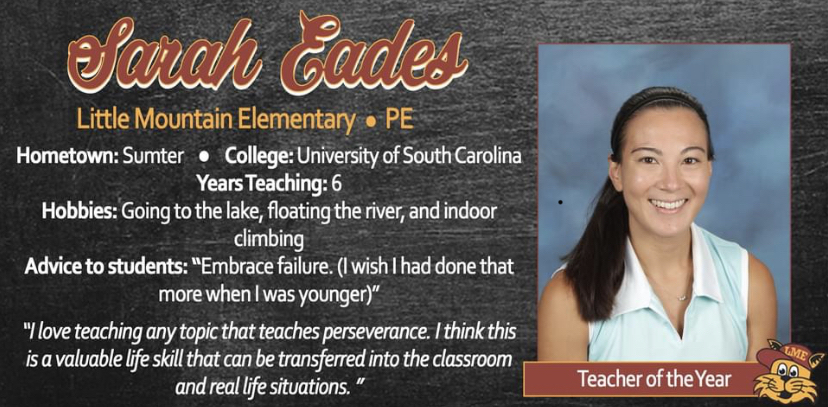 Instructional Setting Change - Parents who wish to change their child's instructional setting are asked to complete the request at
http://bit.ly/InstSet
Parents will be able to complete the request until 3:00p.m. on Friday, November 13.

We have power at LME!

We are having school today, 10/29/20. We hope to have power by 9AM. We will keep you updated if there are any changes to our day. We are going to make it a great day on the mountain!

The School District of Newberry County is considering a transition from a hybrid schedule to a 4-day in-person instructional schedule. The transition will occur in multiple phases, beginning with students in elementary grades and students with special learning needs. Please click the link below to respond to the Phased in Return Survey –
https://forms.gle/fuS4iFjgrZ9fKb1c9
This survey will close on October 16, 2020. Please complete one survey per student.
Hello Wildcats, today we are kicking off our largest annual fundraiser and we are counting on your support! Our Fundraising Goal: Playground Structure (Our current playground structure is 16+ years old.) Helping us reach our goal is QUICK, EASY, and only takes about 5 minutes. We have partnered with Charleston Wrap® to make it happen! With over 2,500 gift ideas, including Ultra Heavy™ gift wrap, gourmet kitchen essentials, personalized gifts & more, friends and family can help us reach our goal by checking off their holiday shopping list! But first, you'll need to invite them to support our fundraiser! Complete the three (3) steps below and we'll be on our way to reaching our goals! Here's how to help: 1. Please click here to register today!
https://www.charlestonwrapstore.com/non-school-registration.php
Use our ORGANIZATION ID 11010 to register! 2. Send 10 unique and valid shopping email invites to your friends & family using our invite tool at registration. 3. Shop! With over 2,500 gift ideas, you can check-off your holiday gift-list and support our important cause, too. PRO TIP: The more email invites you send, the more supporters we'll get! So, break out your email contact list, share on social media, and help spread the word! Will you take a few minutes and register now? Thank you so much for your support! Little Mountain Elem. School PTO-SC
https://www.charlestonwrapstore.com/non-school-registration.php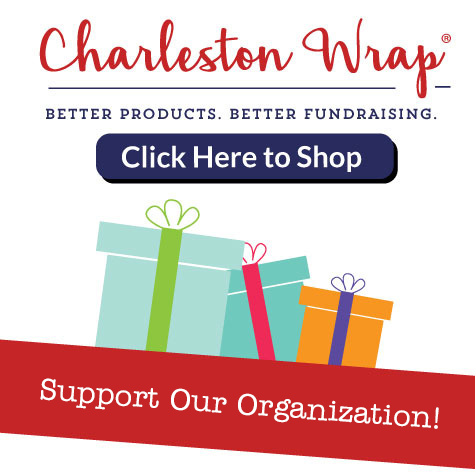 Dear Little Mountain Elem. School PTO-SC, Now more than ever, YOU can make a difference! Today we are kicking off our largest annual fundraiser and we are counting on your support! Our Fundraising Goal: Playground Structure (Our current playground structure is 16+ years old.) CLICK HERE to watch our kick off video! Helping us reach our goal is QUICK, EASY, and only takes about 5 minutes. We have partnered with Charleston Wrap® to make it happen! With over 2,500 gift ideas, including UltraHeavy™ gift wrap, gourmet kitchen essentials, personalized gifts & more, friends and family can help us reach our goal by checking off their holiday shopping list! But first, you'll need to invite them to support our fundraiser! Complete the three (3) steps below and we'll be on our way to reaching our goals! Here's how to help: 1. Please click here to register today! Use our ORGANIZATION ID 11010 to register! 2. Send 10 unique and valid shopping email invites to your friends & family using our invite tool at registration. 3. Shop! With over 2,500 gift ideas, you can check-off your holiday gift-list and support our important cause, too. PRO TIP: The more email invites you send, the more supporters we'll get! So, break out your email contact list, share on social media, and help spread the word! Will you take a few minutes and register now? Thank you so much for your support! Little Mountain Elem. School PTO-SC Questions about registration? Call CW Customer Support at 1-866-395-2926