End of Year Medication Pick-Up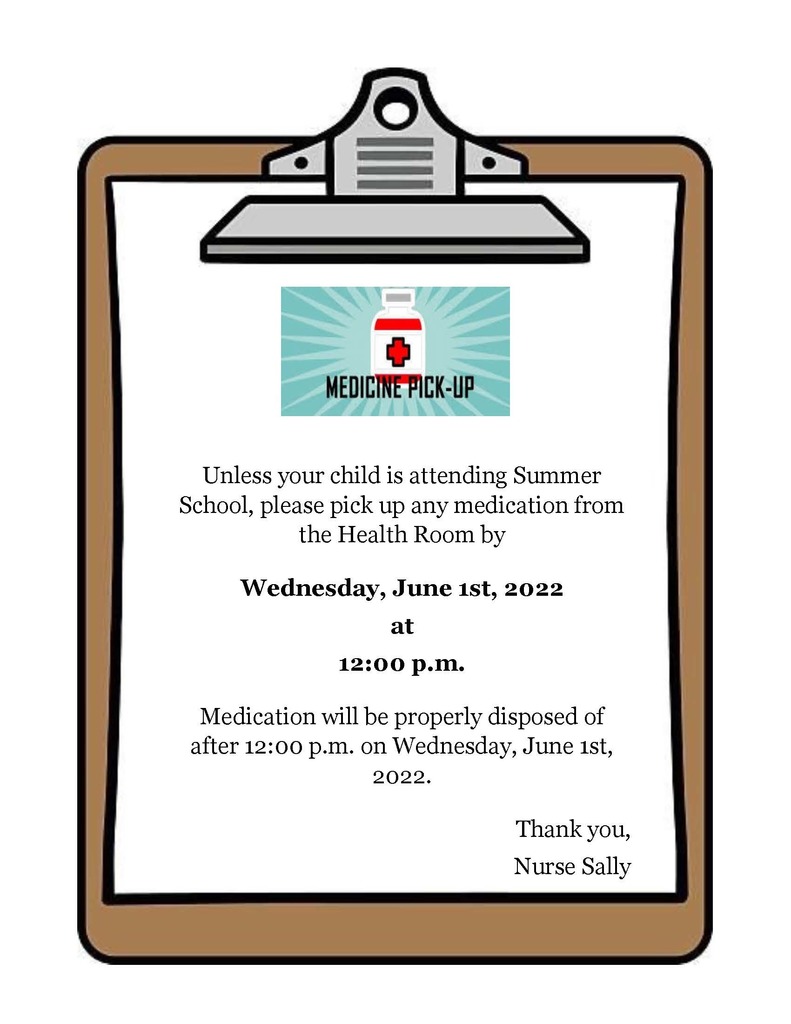 The South Carolina Department of Education partners with the Education Oversight Committee to deliver a parent survey. The responses to the survey are collected and combined with other parent responses to provide information to the school and district leadership about how parents feel about the school. All students in grades K-12 will be bringing home a letter today, Tuesday, May 3. This letter explains one way for parents to access the parent survey. The letter contains a QR code that can be scanned with a cell phone. All other information needed to complete the parent survey is printed across the bottom of the letter. Each student in the home will receive a letter specific to the student and school. A second option for accessing the survey is through the parent portal. Directions for parents on how to use the mobile app are located on the district website under News Items. We encourage you to take a few minutes to complete the survey, and thank you in advance for your time.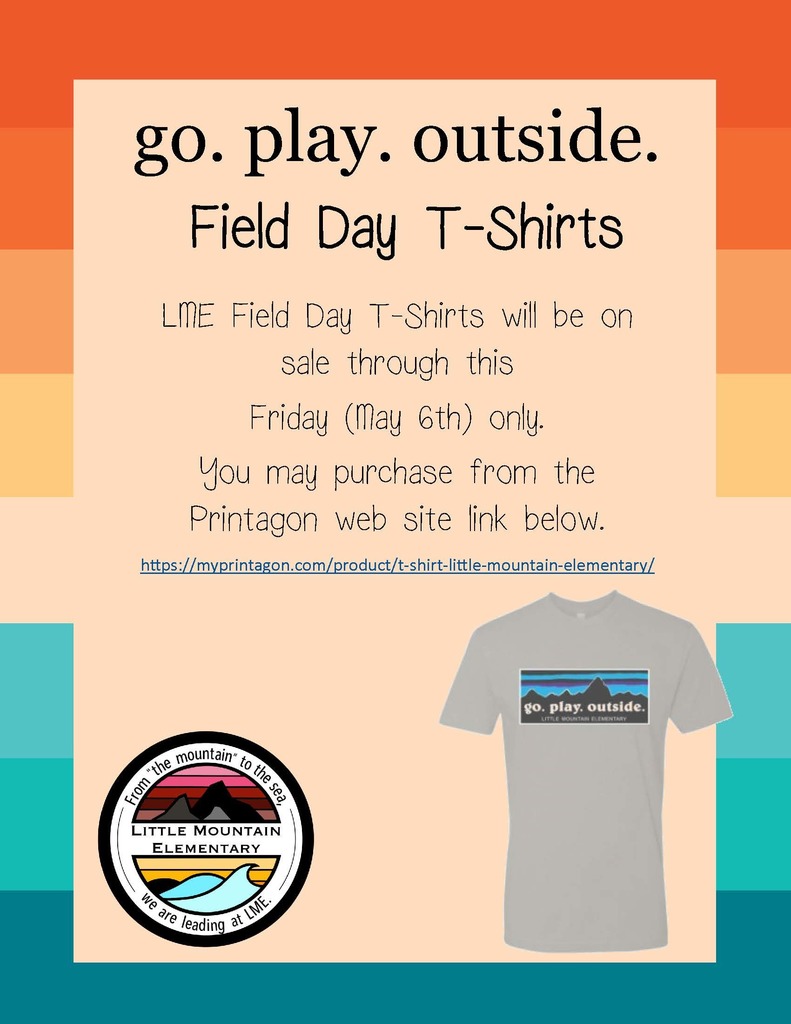 We hope all our LME Wildcats have a wonderful Spring Break. We will see Tuesday, April 19th.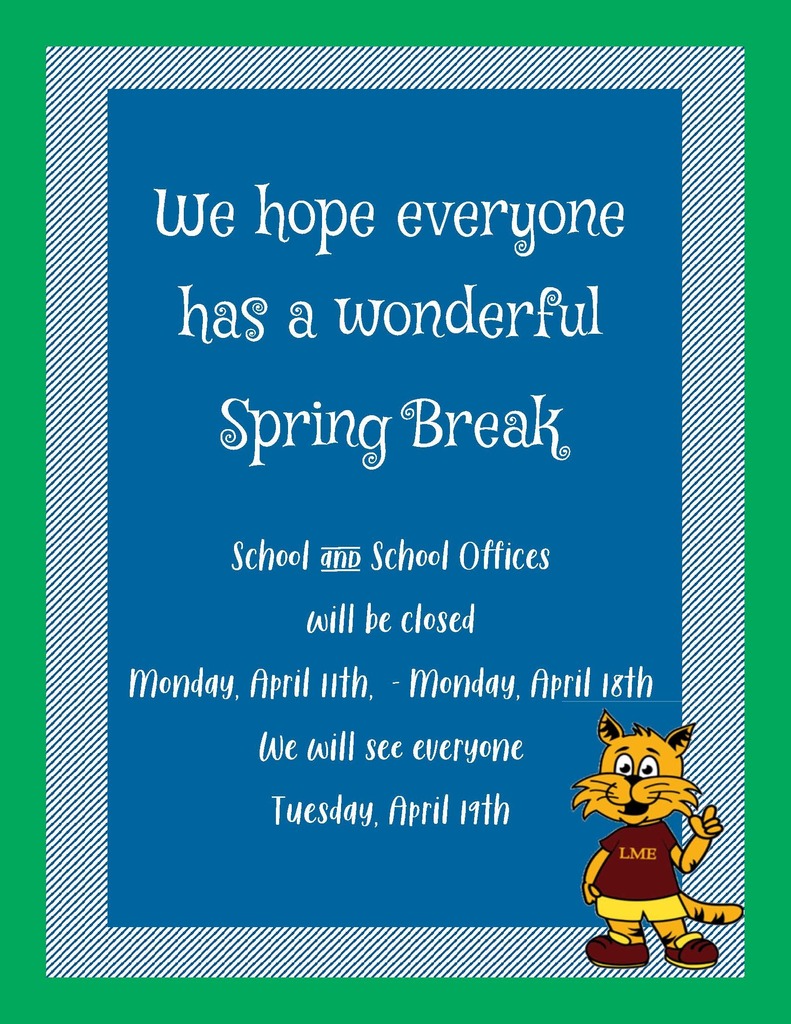 The Boys & Girls Club at Little Mountain Elementary is currently experiencing a high number of staff who have been excluded from work. As a result, Boys & Girls Club is closed today, Thursday, January 13th, 2022 at Little Mountain Elementary. Please call the office with transportation updates by 2:00pm. You may contact the office at 803-945-7721. Thank you for understanding.
From Little Mountain Elementary, we wish you a Merry Christmas and a Happy New Year. We will be closed until Monday, January 3rd, 2022, and students return Tuesday, January 4th, 2022.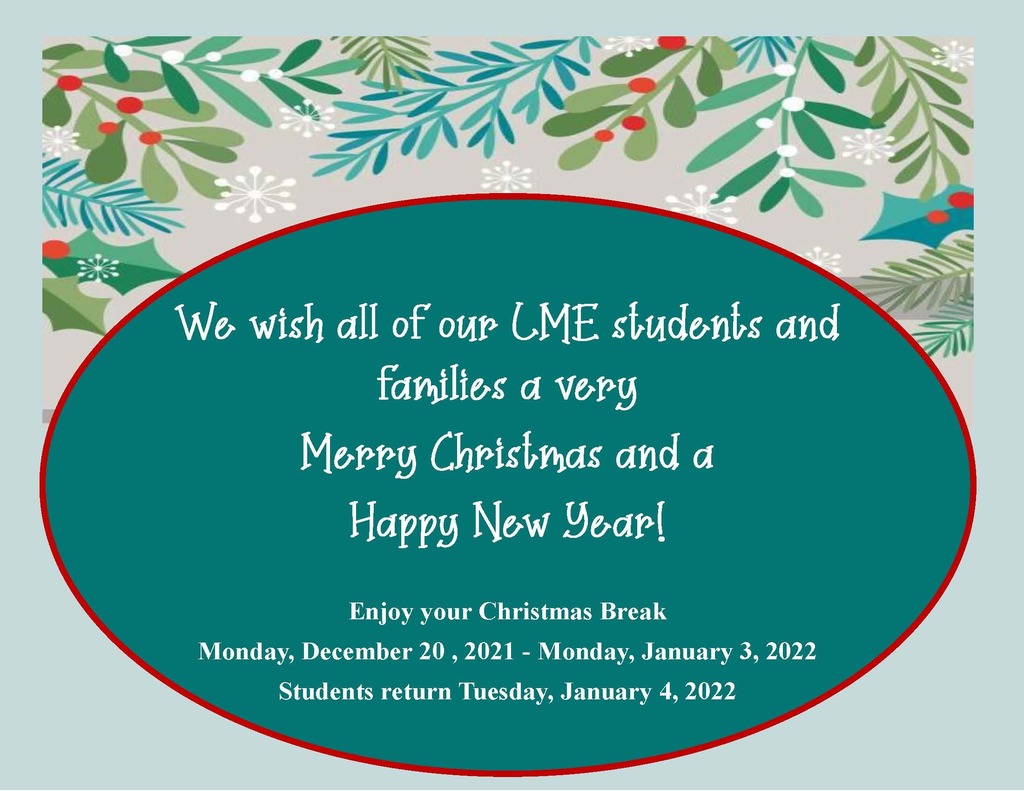 Good afternoon Wildcats, please remember tomorrow is a half day. Students will dismiss at 11:00 a.m. If you have any transportation changes for tomorrow, please send a note with your child. We will be showing a holiday movie tomorrow, so students don't forget to wear your PJ's.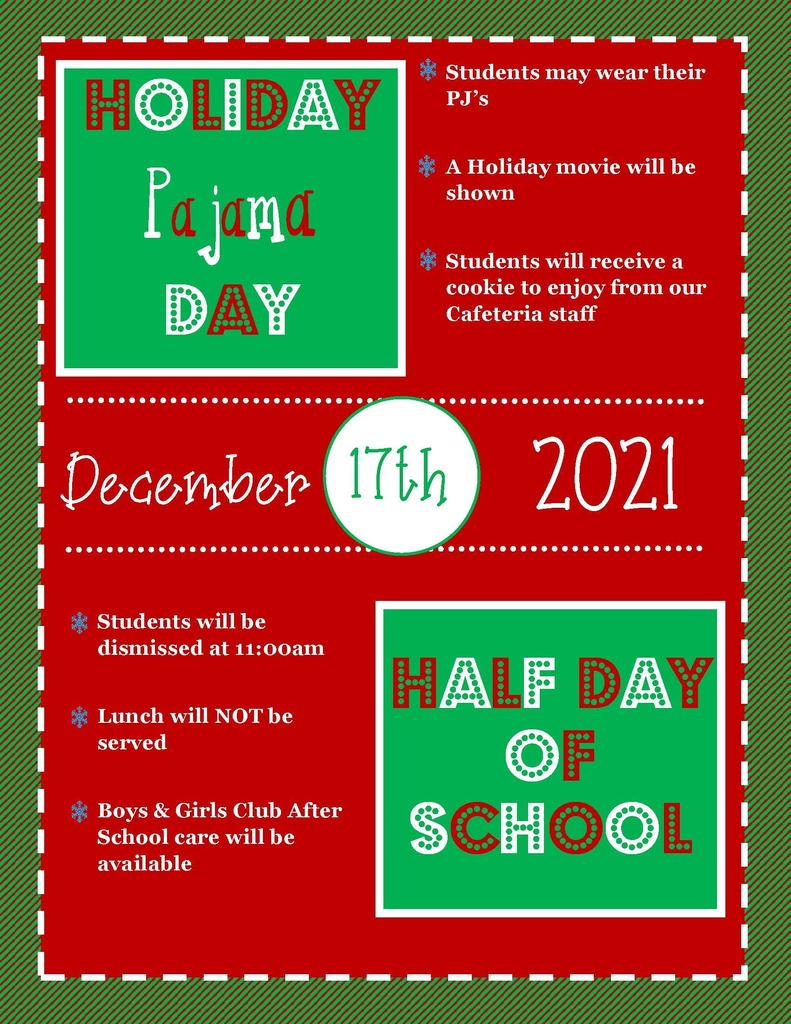 Reminder, tomorrow is Early Release, students will dismiss at 12:40 PM. If you have any transportation changes for tomorrow, please be sure to send a written note to school with your child.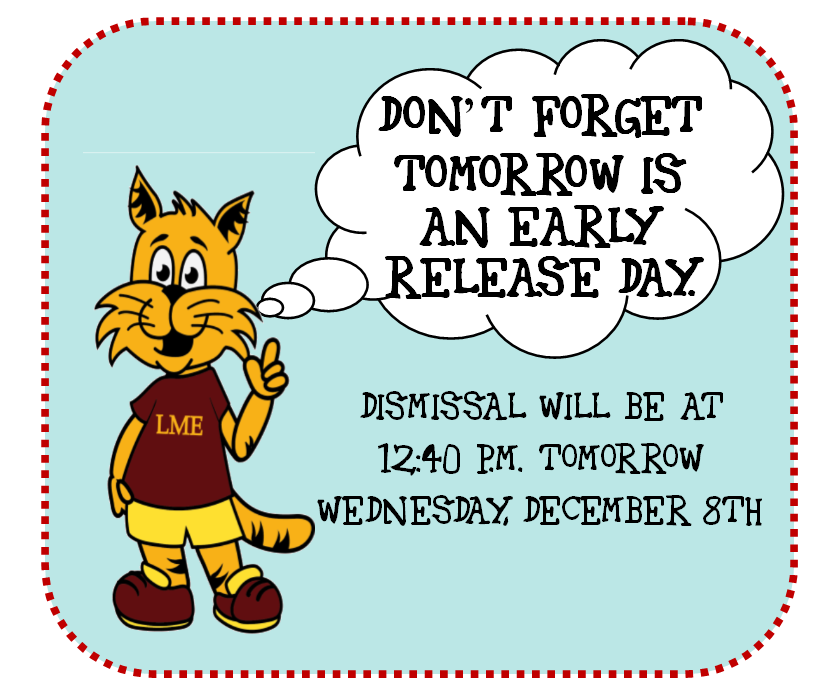 Any day is a good day to thank a veteran for his or her service. However, it's particularly important on November 11, otherwise known as Veterans Day. Initially meant to celebrate world peace and the end of World War I, Veterans Day has evolved into a holiday honoring current and former members of the United States Armed Forces. The LME Wildcats created a special "thank you" video to share on this Veterans Day! Thank you to everyone that serves our country.
https://youtu.be/lO_Su78Z_x8

Our annual canned food drive will be next week, November 15th - 19th. Let's make this project of giving a success!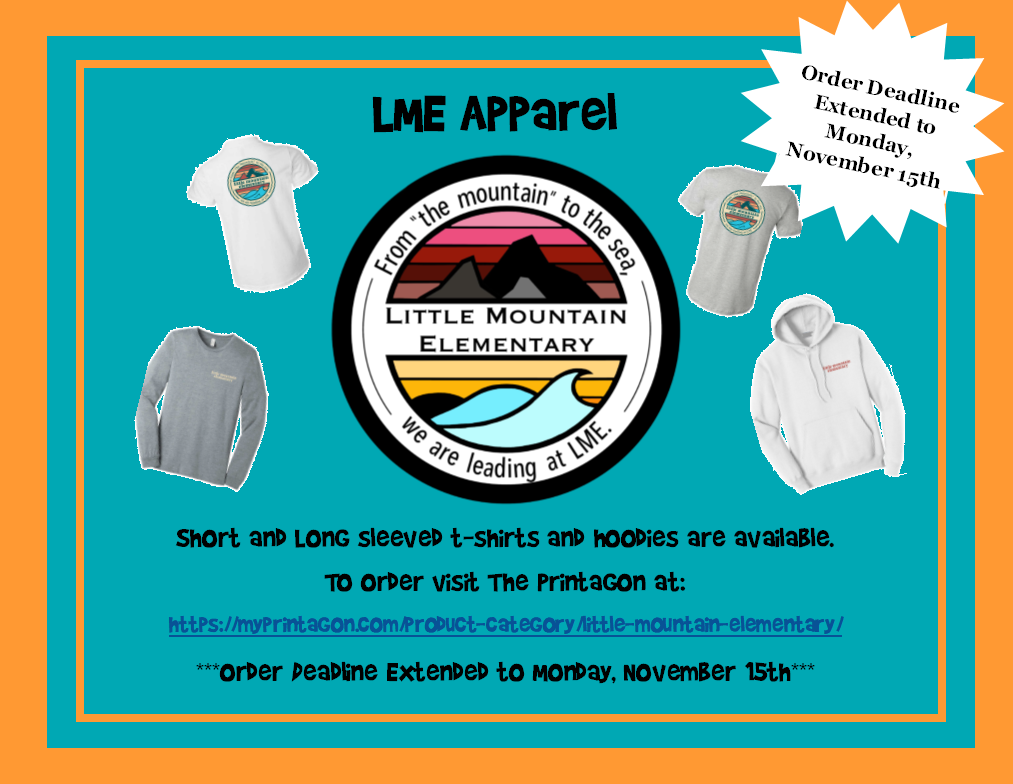 Parents and relatives, celebrate your Wildcat by purchasing and submitting a special personal message for the 2021-2022 yearbook.

Red Ribbon Week October 25th - 29th DRUG FREE...........LOOKS LIKE ME! Make-up picture day is scheduled for Wednesday, October 27th. (For a student that needs to participate in make-up picture day, please have student wear picture clothes to school. Student will change into pajamas after photo session.)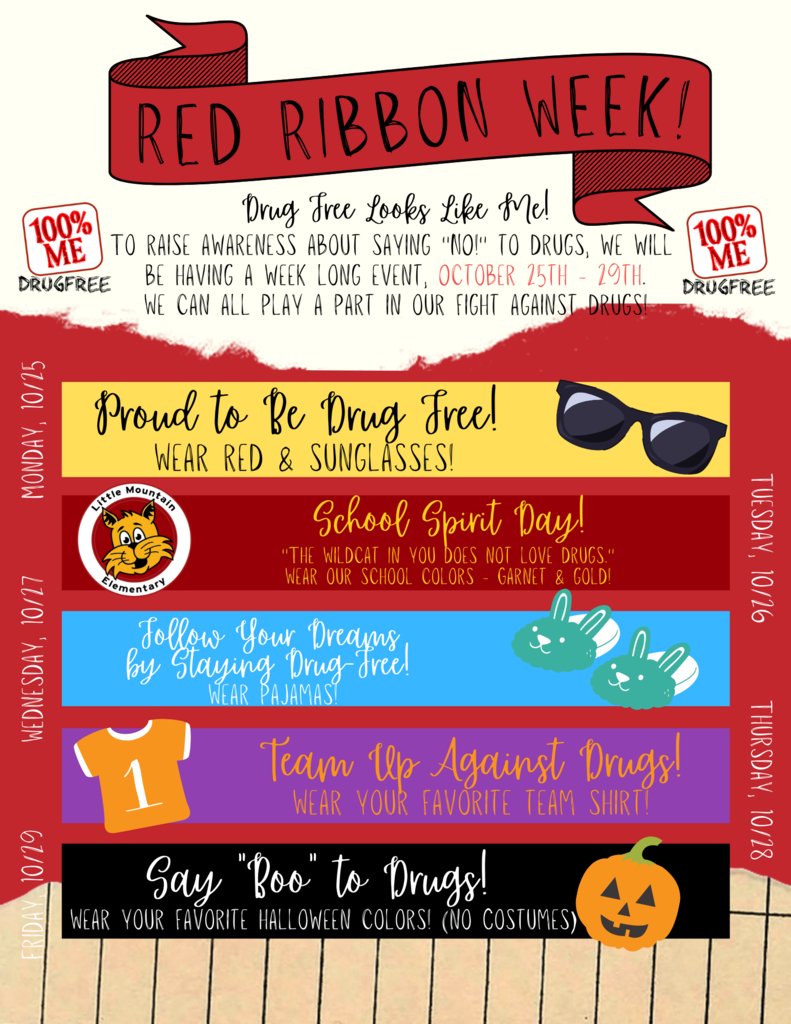 Picture Day is tomorrow, September 23, 2021.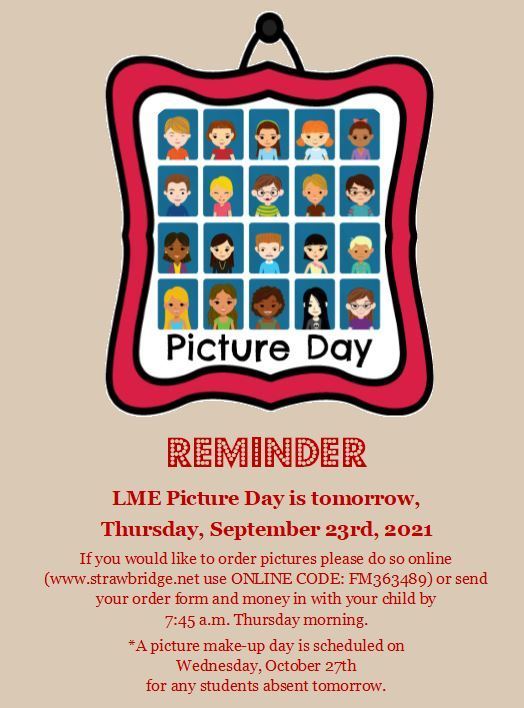 Reminder, tomorrow is Early Release, students will dismiss at 12:40 PM. If you have any transportation changes for tomorrow, please be sure to send a written note to school with your child. Don't forget to check your child's communication folder tomorrow for important information being sent home. If you have any questions, please contact the office at 803-945-7721.

Registration for Be Great Academy's 2021-22 after school program is now open! Come join us for award-winning fun programs focused on achieving academic success, healthy life styles, and character development! Participants will receive snack daily and have the opportunity to complete each day's homework during our Power Hour program. Our curriculum focuses on STEAM projects and leadership skills all while providing a safe place for your child after school. After school care will begin the first day of school and run from school dismissal until 6:30 PM on school days. We offer care at select locations when school is out. Let us help your child discover their greatness within. Visit
https://portal.begreatacademy.com
for more information and to complete the online registration.
ATTENTION ALL REGISTERED KINDERGARTEN STUDENTS Welcome to Little Mountain Elementary School! 2020-2021 We are very excited to offer Rowdie's Kindergarten Retreat at Little Mountain Elementary. We look forward to a great year together with many new and exciting things planned! Rowdie's Kindergarten Retreat Each kindergarten student is scheduled for two days of fun and introductions this year in Kindergarten. Your child will be able to spend their time meeting their teachers, new friends, and learning expectations for the year. • If you registered for bus transportation, it will be provided. The bus may stop at your location every day of the week of August 16th. Only allow your child to get on the bus the two days they are scheduled for Rowdie's Kindergarten Retreat. • Students that are car riders may be dropped off in the car rider loop beginning at 7:15 am. Dismissal for all students will be 2:40 pm. • Breakfast and lunch will be served to all students. • Students' scheduled days are assigned according to their last name: Students with last names beginning with A - L will attend on Monday, August 16th and Tuesday, August 17th. Students with last names beginning with M -Z will attend on Wednesday, August 18th and Thursday, August 19th. The first full week of Kindergarten begins Monday, August 23rd. We hope that you are well rested, excited, and ready to begin a new year!

The 2020-2021 yearbooks have arrived again! Please come and pick up yearbooks during registration hours over the next two days. Wednesday 8:00 to 1:00 Thursday 1:00 to 6:00 Thank you for your patience on yearbooks. We also have extras for sale for $35.00.

Do you need after school care for your child? Check out Be Great Academy. Be Great Academy is offered through the Boys and Girls Clubs of the Midlands.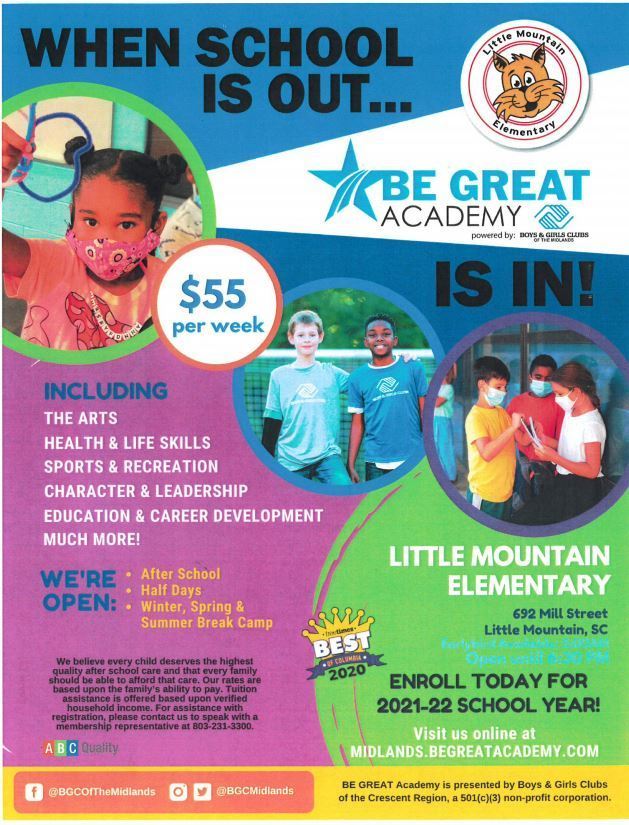 The School District of Newberry is offering Technology Insurance for your student's device for a $25 fee. Please see the document below for more information.